It's Much More Than Just "Being Online"
For any business owner, digital marketing is an absolute necessity. We have conversations with people on a daily basis about the importance of having a lead-generating, SEO-optimized website. However, did you know that over one-third of small businesses don't even have a website? In today's mobile-first digital-based economy, not having a website, and –more importantly– not understanding the importance of consumer behaviors can be the difference between success and going out of business.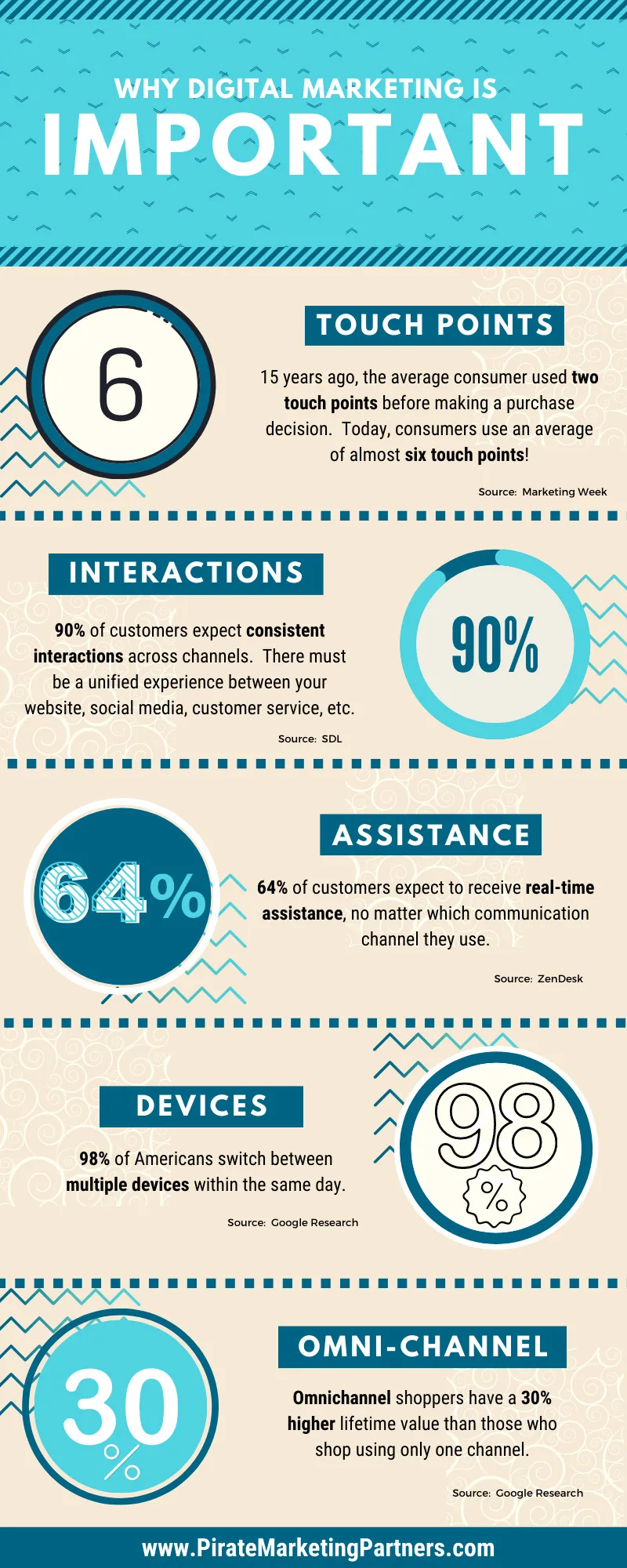 Let's chat about some of the stats in the infographic above.
Touch Points
Back in 2005 – only 15 years ago – the average consumer used two touch points before making a purchase decision. Meaning, someone might have heard a radio ad about an automobile dealer. That would lead them to visit the dealership to test-drive some cars. (2 touchpoints)
Nowadays, on average, consumers use more than five*! So for example, a consumer might Google "cheese shop near me". They would review the first handful of results that show, and glance over online reviews on Yelp or TripAdvisor. Then they would visit the first few websites to see the available products, and click through to the social media channels to scroll through some recent posts. Next they might call a couple of shops to inquire about a particular product. Finally they would make their decision on which cheese shop to visit for a purchase. (6 touchpoints)
*Source: Marketing Week
Interactions
90% of customers expect consistent interactions across channels*. This means that if you respond to email inquiries with lots of energy and helpfulness, you can't have a grumpy social media coordinator giving half-assed responses on Facebook Messenger. The customer must experience a unified communication style across all possible touch points – website, phone, email, social media, in person, etc.
However, if you don't provide a consistent communication style, it can be confusing and discouraging for the customer. For example, Betty owns a flower shop in downtown. When someone walks in the door, they are enthusiastically greeted and helped by Betty herself. That's fantastic! But perhaps a week later they need a special bouquet for a particular event, and the customer calls Betty's store to ask a question.
Because Betty is busy with customers at the front desk, she allows her office manager Sue to answer the phone. Sue is busy and gets annoyed by having to answer questions, and is abrupt and dismissive to the customer during the call. The customer would be taken aback and angry at the poor customer service. So then, the customer posts a question on the flower shop's Facebook page. Even though there are new social media posts every day, no one answers his question. This is because Betty says she doesn't understand Facebook, and has her 15-year old nephew managing her social media, and he can't be bothered to answer questions. The customer's question never gets answered. After two poor interactions with Betty's team, what is the likelihood that this customer would return in the future? Or refer a co-worker to Betty's shop?
*Source: SDL
Assistance
In today's connected world, customers expect to receive real-time assistance, no matter which communication channel they use*. Meaning, someone must be tasked with responding to inquires or issues 24/7/365. This is especially true for larger companies with round-the-clock operations. But even for small businesses, there has to be some level of immediate engagement through their digital marketing.
For example, if you're a sole proprietor that can't be available 24 hours a day, you can at least set up an auto-responder for Direct Messages that says, "Thank you for your inquiry! Our offices are open from 8am-6pm, Monday-Saturday. We will respond to your message during this time". Or, you could have an after-hours voicemail on your business phone, that says, "Thank you for your call! We are currently out of the office, but will respond to you during the next business day. For emergencies, please call <emergency line>." Even automation is a better alternative to a phone that rings and rings, or a Direct Message that doesn't get answered for a week.
*Source: ZenDesk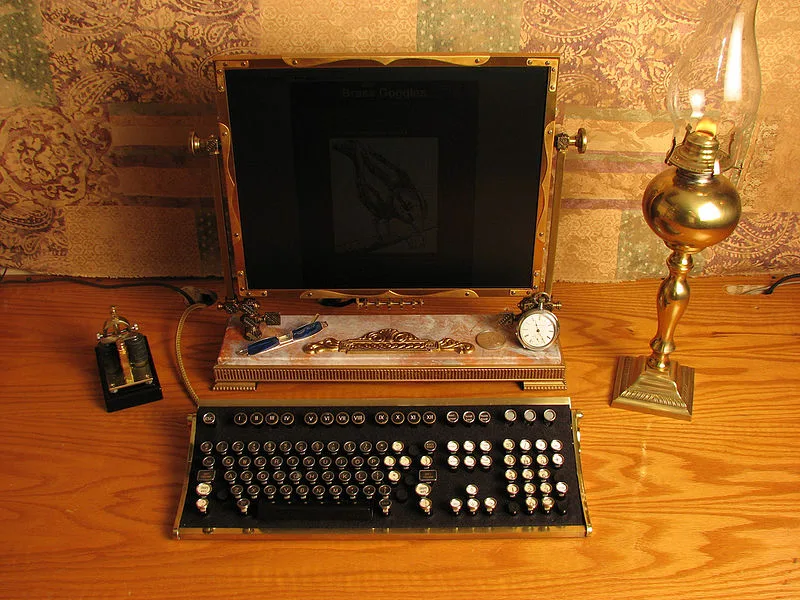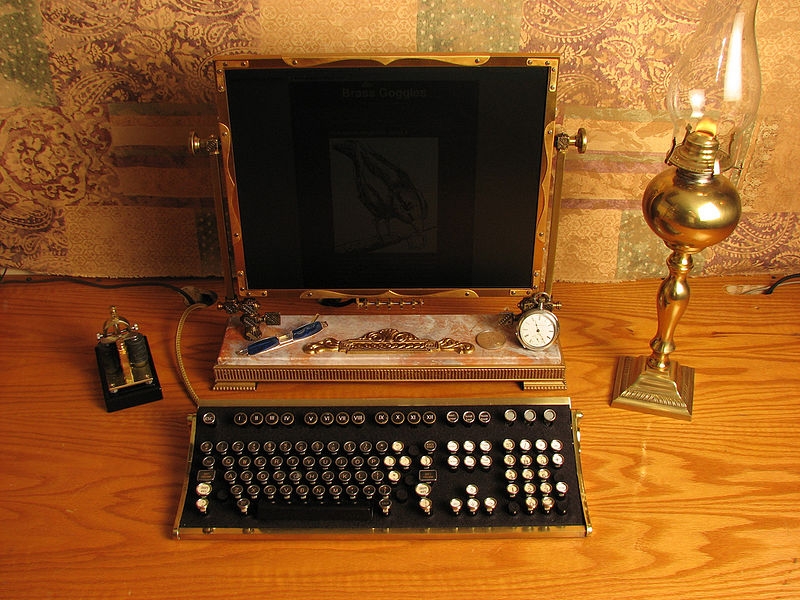 Devices
98% of Americans switch between several devices within the same day*. Nowadays, do you know of anyone who doesn't? Most of us wake up in the morning and immediately check out phones while still in bed. While eating breakfast, we may grab our tablet to scroll through Facebook or Instagram. Once we get to work, we're on our desktops most of the day. In the evening, we're back to tablets and phones.
It's essential to ensure that your website functions correctly across all of these platforms. With more and more web traffic moving to mobile-based, if a prospect can't easily scroll your website on their phone, chances are they will click off and never return. So it's incredibly important to follow digital marketing best practices, and make sure that your site is 100% compatible with every possible device.
*Source: Google Research
Omni-Channel
Omni-channel shoppers have a 30% higher Customer Lifetime Value (CLV) than people who only shop using one channel*. Here's an example of why this is important: If you have only a website, a customer may only visit your site once for a one-time purchase. There's less engagement, less brand loyalty, and less likelihood of them returning. However, if they engage –AND have a consistently positive customer experience– through multiple channels, that will raise the likelihood of them returning for other purchases in the future.
Here's another way to look at it… You want to purchase some specialty paint to redesign a room in your house. So you do a search online… your closest options are a local business named JoJo's Hardware Store or Home Depot. You call Home Depot to ask about this special paint, and customer service has no idea. So they transfer you to the paint department. You wait on hold for 5 minutes, and then the person who eventually picks up is rude and can't answer your question.
Then you call JoJo's Hardware. Someone at the front desk answers within the first 2 rings. They helpfully answer your question, list multiple options you can select, and offer to assist when you come in. You go to visit JoJo's store, and they greet you as soon as you walk through the door. They then show you the product you need, and offer a quick check-out process with a smile. Then they also direct you to their YouTube channel for a How-To Video. You go home, watch the video, and subscribe to their channel. You then look them up on Instagram, and follow them for interesting design ideas. The next time you need paint – where are you going to go?
*Source: Google Research
Digital Marketing is Required to Run Your Business
If you'd like to learn more about how to set up an effective digital marketing strategy, we'd love to help! Call or email us today to set up a time to chat.