So many businesses have a generic, forgettable brand.
The question is WHY?! Any potential client or customer's first impression of your company or products is your brand. The initial look and feel of your logo, website, or printed materials can instantly catch someone's attention. But if your logo or company name is boring, you're likely encouraging those potential customers to keep scrolling. So, in a crowded online marketplace, with hundreds of competing companies, why would anyone miss an opportunity to STAND OUT? You need to consider some strong logo concepts!
Below are some interesting branding and logo concepts we created. You can see how the combinations of color, fonts, and usability fit the personality of each company. Additionally, these concepts are designed to appeal to the target audience of each company's potential customers.
Cats and boats…
Kitty Knit Studio: For this yarn and craft store, we created a playful image of a cat made of yarn. This was combined with an easily-readable font, and cozy autumn colors of pumpkin and soot.
Golden Anchor Maritime Builders: This logo has a triangular shape, denoting strength and stability. The bright yellow color is highly visible even in low-light conditions. It's also easily recognizable whether on a t-shirt, security badge, or safety helmet. Plus, it pairs well with basic backgrounds like black or white.
Logo Concepts for yogis, bogeys, and fogies
Earth Bound: The concept logo for this yoga studio combines an organic, earth-toned lotus flower with a soft, flowing script. The stylized image of Ganesh in the center of the logo denotes wisdom and prosperity for traditional yoga practitioners.
Tacoma Transit Consultants: This logo concept has a modern, clean look. The traffic-light colors convey movement and energy, and the design suggests swift vehicles. This simple but eye-catching design looks excellent on digital platforms such as websites or social media, as well as on traditional advertising like printed brochures or sales presentations.
Budding Blooms: This logo has a fun, approachable font and design in soft spring-pastel colors, denoting growth and new life. This looks great on natural, organic tones like canvas tote bags or watering cans made from recycled plastic.
Sailors and sippers and tippers…
Captain Pip's: The conceptual logo for this marina showcases the crowd-favorite activities available – sailing, sunbathing, swimming, and fishing. The colors convey the natural views around the marina, such as clear skies, soothing blue water, peaceful sunsets, and emerald sea grass.
Miss Becca's: A logo concept for this Tea House and Boutique needed to denote the feminine hospitality of the shop. Flowing, floral script with a Victorian feel gives a delicate yet classic vibe to this logo.
Lighthouse Investment Advisors: This simple tri-fold sales brochure combines a classic font with rich jewel-tones, conveying the emotion of stability and trustworthiness. Clear, direct content provides a simple summary of the business, and contact information for the sales representative.
Having a strong brand can help your organization grow in many ways.
1) Differentiation in the Marketplace
Having a memorable and recognizable brand helps customers tell you apart from your competitors. Most prospects or consumers starts looking for a product or service online. And they're far more likely to choose you, if your logo appeals to them. Even if they've never visited your site or store, they may still recognize your logo, or the name of your company. Perhaps because it caught their eye by some other means (like local advertising, outdoor signage, or vehicle vinyls).
2) Improved credibility and customer loyalty
A strong brand can improve the public perception your credibility. Imagine you're researching car repair shops online. If you saw these logos on a list of options, would you be more likely to click on more than another? Honestly, do some colors and fonts look more professional to you?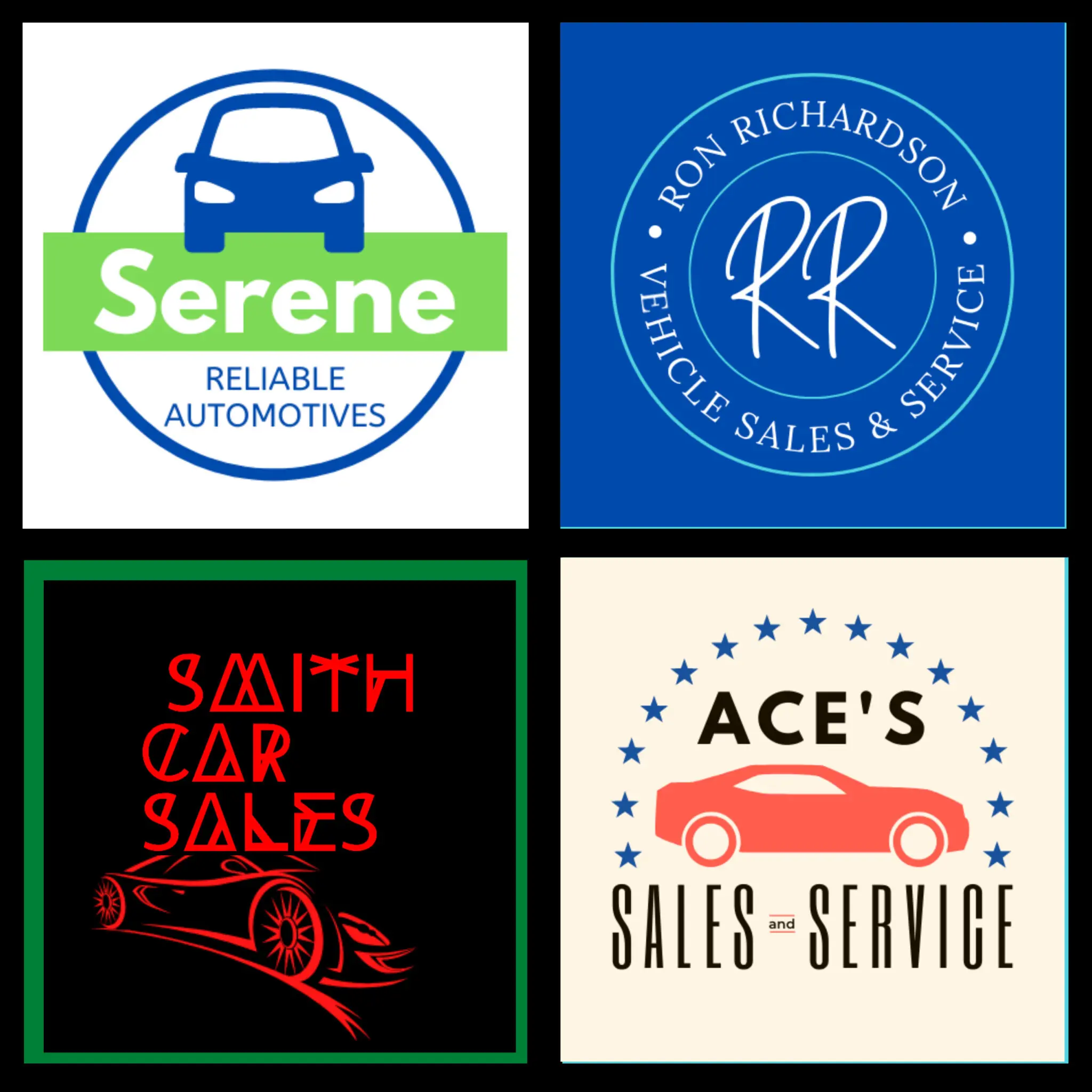 Time to consider some new branding and logo concepts
Once you've established credibility, you're well on your way to building your customer loyalty. It's human nature for people to develop a rapport and emotional connection to their favorite brands. Hundreds of Facebook groups are followed by loyal shoppers/fans of certain stores, such as Target or Starbucks. And once that loyalty and trust is gained, it's much easier to introduce new products to that engaged audience. Also, this leads to quicker sales and larger purchases. And more importantly, don't forget the power of referrals for gaining new customers!
If you'd like to discuss some ideas for logo concepts for a new company, send us an email! Or perhaps you'd like to revamp your old logo into something new and fresh? If so, give us a call! To read more about why strong branding is necessary for all businesses and organizations, click here. Or, if you'd like to learn more about Pirate Marketing, visit our About page.